Rykken to attend Native American history summer study program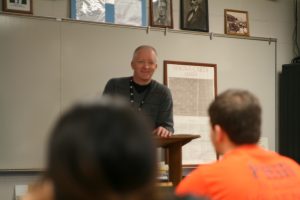 Paul Rykken, a history and politics teacher, has been selected to attend a study program on Native American History at Dartmouth College in New Hampshire. The seminar is sponsored by the Gilder-Lehrman Institute of New York, and organization that works to promote the teaching of American History in the United States. The director of the program is Dr. Collin G. Calloway, a history professor at Dartmouth.
"This was the fourth time I had applied for this program – they are hard to get into. I am intensely interested in American Indian history and have been throughout my career," said Rykken.
Loving knowledge, Rykken applied to three other Gilder-Lehrman seminars before this one. In 2001, he learned about the Underground Railroad at Amherst College in Massachusetts. In 2006, the era of George Washington at Brown University in Providence. In 2009, Abraham Lincoln at Gettysburg College in Gettysburg, Pennsylvania. Having only listed a few of the programs he attended, he also went to eight others sponsored by different organizations.
"E
very opportunity I have to be involved with such seminars I have grown in my knowledge of history. Such opportunities force me to continue reading and researching in my field and I believe have enriched my teaching," said Rykken.
These programs give Rykken more knowledge and allow him to pass on the information, giving students an indepth understanding of a subject.
"We work hard
Rykken is now heading to Dartmouth College, which was founded by Congregational Minister Eleazar Wheelock in 1769. Originally, the school was meant to train Native Americans into missionaries. After the school relocated, its goals changed to teaching all. In the first two hundred years, they have only graduated 19 Native American. Since then, Dartmouth graduated over 700 Native Americans students from over 200 different tribes. That is more than the other seven ivy schools! combined.at Black River Falls High School to bring the Native American perspective into our history classes, and I'm certain that this experience will increase my ability to do that in a professional way," said Rykken.
"I am excited about getting out to Dartmouth due to its spectacular reputation with Native American studies," said Rykken.