Food warriors conquer Cupcake War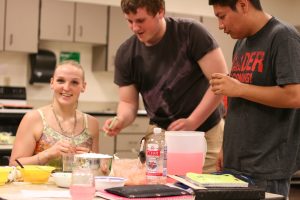 Family and Consumer Education teacher Tina Gilbertson's Foods 2 class competed in Cupcake Wars April 29- May 3. The event involved a few groups with creative names made up by the students.
This is the first cupcake war in course history.
Senior Foods 2 student Brandyn Stoker participated in the war.
"It's been great, learned new ways to make cupcakes everyday, really expanding my vocabulary with all the trash talking," said Stoker.
The wars are a new experience for the students, but with contests or in this case, war, you sometimes have rules to which the players must abide.
"You need to find a nice cupcake recipe, and when you got your recipe, you've got to bake it and make it look pretty. You have to have 18 of them so teachers can try them," said senior Bryce KoppKopp.
"And there's no help from Mrs.G. You just have figure it out," added Stoker.
When you enter a war sometimes you have to just figure it out. Sometimes those experiences don't go so well.
"Like I once sprayed canola oil from a can into a cup cause I didn't know what I was doing," said Kopp.
Then sometimes team members are there to witness the learning experience.
"[Kopp] legitly filled the whole cup with canola oil," added Stoker.
One of the teams won for having the best cupcakes. Cory Kampmeier, a senior, was part of the team.
"We were a very good team. It got really intense because on Wednesday Nathan dropped some cupcakes, [so] on Friday we had to remake them. Barely had any time to finish, but feels nice to win," said Kampmeier
The winners got a prize for winning the war, which in this case was getting out of doing some in class work.
"We got to get out of two worksheets and don't have to do them, feels great," said Kampmeier.
When things go well in competitions they sometimes become an annual event which is probably the case for the Cupcake Wars.
"Awesome, things went really well and yes it will be an annual competition," said Gilbertson