AP Classes: You are not alone
May is upon us, which can only mean one thing: Advanced Placement testing. For students, this can mean hours of studying, reading, note-taking and highlighting. But students are not the only ones who must prepare for Advanced Placement tests. Teachers go above and beyond to provide students with a realistic college experience.
AP English with Karl Wallin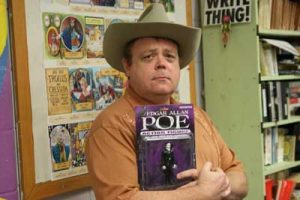 Karl Wallin has been teaching AP English Literature & Composition at BRFHS since 1999. In order to prepare for AP each year, Wallin re-evaluates his material and teaching methods to best present the curriculum the College Board requires in as concise and effective a manor as possible.
 
"I enjoy observing the students when the 'light comes on' and they actually begin to grasp the concept of what we are attempting to accomplish in this class and what this course is really all about," said Wallin. "I cannot only see the confidence increase in their visages but in their writing and analyzing abilities as well."
For students considering taking AP English, Wallin offers the following advice.
 
"The ability to do what you need to do does lie within you if you allow yourself the opportunity to grow into it. Trust in yourself and trust in the process. Push your own envelope and you will be amazed at what you will be able to do by the end of the term," said Wallin. "Thoreau wrote 'Our life is frittered away by detail.' Don't allow yours to be. Keep your eye on the big picture of what the class is really about and you will excel."
AP United States History with Paul Rykken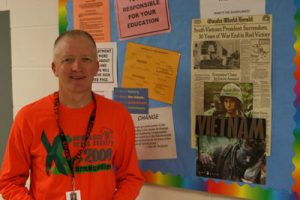 History teacher Paul Rykken had his first experience with AP back when bell-bottoms were the trend and "Hotel California" was number one on the music charts. It was at Fargo North High School that Rykken helped out in a European History class for several weeks.
"When I was hired here [BRFHS], they wanted to institute an AP History component," said Rykken. "We did that in 1991."
In the off-season, Rykken reads systematically and travels to places of historical significance in order to strengthen his background in American history.
"I have participated in 10 study programs that have taken me to different parts of the country including the northeast several times and the south," said Rykken.
If you want to be a better college student, to learn to read better, build your vocabulary, become a better writer, and learn how to prepare for college-style testing, take AP History.
"Never be intimidated by hard work — strong desire will get you much further in life than how much natural brain power you have," said Rykken. "If you want to understand the present world better, then learn the great lessons of the past.  History is a fascinating subject and is great fun."
AP Psychology with Tony Boerger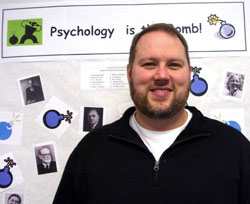 After a decade of teaching AP Psychology, one might think that Tony Boerger would get tired of teaching the same material. For anyone who has ever taken AP Psychology, it is obvious that this is definitely not the case. Boerger keeps class very interesting with Bad Candy Quizzes, fun review sessions, interesting videos and an engaging teaching style.
For anyone who has ever taken a class with Boerger, it is no mystery that Phillip Zimbardo is an idol of Boerger's. Boerger has a special memory of AP Psychology involving a song entitled "Phillip Zimbardo." The song was written by a former student.
"Alan Talaga's Phillip Zimbardo song [is a memory that stands out about teaching AP over the years," said Boerger.
While AP is a lot of fun, the class also involves much preparation on the part of the students and the teacher, as well.
"In past years, I have attended the annual AP workshop at UW-Madison," said Boerger. "I also try to read some books and papers related to psychology over the summer months.
Students who take AP Psychology will learn how to manage their time and improve organizational skills.
"Be prepared to work hard!" said Boerger.
AP Calculus with Tim Young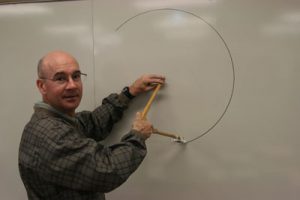 Tim Young has been teaching Calculus for several years, but it was just last year that the course attained the status of "Advanced Placement."
"This change occurred when our curriculum was approved by the AP College Board," said Young.
Young is known for his ability to draw perfect circles freehand. In that spirit, Young believes that taking AP Calculus will contribute to making students more "well-rounded."
"I simply encourage students to take a challenging list of academic courses throughout their high school years," said Young. "I also hope they [students] get a chance to experience a variety of courses that could also include classes such as Dan Olson's house construction." 

AP Biology with Jim Klos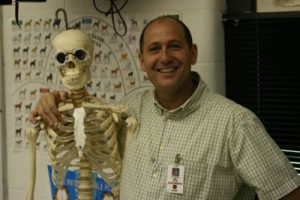 The latest addition to the AP teaching community, Jim Klos began teaching AP Biology during the 2008-2009 school year. Since then, Klos has taken some steps in order to improve the AP Biology experience.
Klos took a course in June of 2009 for an entire week, lasting from 8:00 am to 4:30 pm.
"After my summer course, I am 20 times more confident as an AP Bio teacher," said Klos.
For students planning on taking AP Biology, Klos has some advice.
"You will need to put in time outside of the class. There is a lot of reading and understanding on your own," said Klos. "If you want to have a challenge and see if you can handle a college course setting, I would love to have you."
Leave a Comment