Jessie hoping to jump her way back to state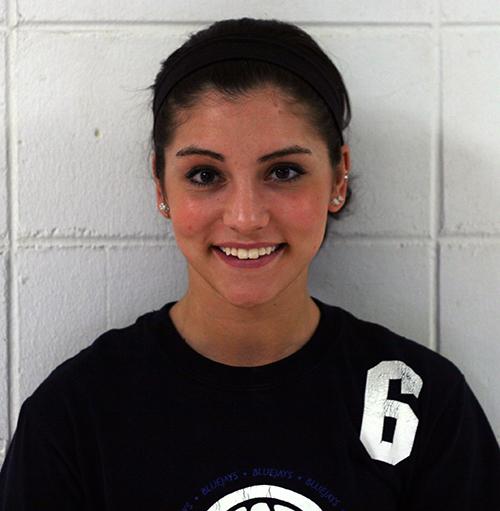 The track team has a returning senior who attended the state meet last year.  As the Track and Field season starts everyone has the goals of getting to the State Track and Field meet at UW-La Crosse in early June.
Senior Miranda Jessie has made her presence felt since her freshman year. She specializes in the triple jump, a field event.
Coming off her 6th place finish at the state meet at the last year, Jessie knows that it take a lot of work to get back there her senior year.
"It's really hard to work on triple jump in the off season because we do not have an indoor sandpit to jump into," said Jessie.
Even though Black River does not have an indoor sandpit for the jumpers, Jessie still found a way to get better and get to state. She continued to lift played volleyball and hockey to help her stay in shape for the track season.
"I think that it is very important for people on the team, and everyone else, to set goals and try your best to reach them," said Jessie.
The goals that Jessie hopes to reach this year in track are to return to state. Another goal that she has, she wants to beat the Black River Falls High School Track and Field record for the triple jump. So far Jessie is only 9.25 inches away from her goal.
"It was my third jump at the state meet when I jumped 35 feet," said Jessie.
Though she has a lot of work to do if she wants to return to the state and to the beat the school record jump of 35 feet and 9.25 inches.
Jessie has to taken some steps to return to the state meet for her senior year and to try and break the school record.
"I have been lifting more than I lifted last year, so I hope that will increase my speed, which will make me jump farther," said Jessie.
As Jessie has taken these steps before the season has started, she already has the upper hand on all the other jumpers that she will jump against this season.
"I have an amazing coach who will lead me and great teammates to support me so I am really excited to see how this year goes," said Jessie.
A senior who has a lot of goals for her senior year in track and field she will get a lot of help along the way from her coach, John Thurow. Miranda hopes to return to state for her final year in track, and she also wants to break the school record.
Leave a Comment